Resellers!
If you are a retailer, then download the Tax Exempt Certificate, fill it out, and then make multiple copies. Give one to each dealer from whom you make a purchase. This will greatly speed your wholesale transactions.
---
A&S Opals, LLC, C45
Abdalla Imports, X #19a
ABM Stone Inc, T32
AddisSea Gems LLC, C-T18
AF Silver Design, L1-04
Africa Minerals, X #1
African Arts and Minerals, P60
African Mineral Treasures LLC, SW3
Agates Ocean LLC, ST3
Ajbari Minerals & Fossils, SW16
Albach Vanapinit Mineral, X #49
Aldemir Pereira Santos, X #54-55
Alexey Elshin, A904
Aloiso Stones Filhos, ST4
ALT Crystal Forever LLC, L1-77
Amazing Obsidian from Jalisco, SW18
American Wholesale Jewelry, C-T10
Amber Alex Ltd, P63
Amber International, A508-9/A608-9
Amezoni Crystals, L1-43
Amigo Minerals, SW17
Ammolite World Ltd, A204
Amonite Inc / Mineralia, SW11
Amorphous Minerals, MC 11
Ampac International, X #17
Anderson's Rocks, MC 4
Angele's Handicraft, C62
Angelic Healing Crystals, T49
Angellight Crystals / Heavenly Scents Aromatherapy, L1-56
Apex Gems & Minerals, MC 9
A.R.C. Fine Minerals LLC, SC 27
Aria Gems & Jewelry, C12
Ariana Gems & Jewelry LLC, C40
Arlette Overseas, X #12
Armando & Sons Custom Rock Cutters, X #58
Arsaa Gems and Minerals, SC 42
Art Africa, X #30
Art Afterlife Skeletons LLC, L1-38
Art of Décor / Rare Earth Gallery, X #40
Arte Crystals LLC, T26
Arthur Gem & Jewellery Co, L1-62
Artesanias Anita, X #13a
Artesanias Loyola, T7
Asian Imports, X #67
Atlas Mineral et Fossile, X #9
Atlas Mountains Treasures, L1-64/L1-65
Balaam Design, C63
Barry Mercer Minerals, MC 14B
Bart Gems Brazil, A305/A405
Bazar Midelt, ST12
BCS Trade, SW14, SD6
Beads and Rocks, X #53
Beauty Agate Crystals LLC, L1-16
Becker Stones, L1-07
Bennett Imports, X #34
Berber Minerals and Fossils, X #60b
Best Moroccan Minerals & Fossils, X #66
Bicolor Gemas Ltda, SC 13
Black Hat Trading, MC 13
BLC Jewelry & Minerals, L1-44
Blue Crystal Mines, MC 8
Blue Lotus Collections, SC 48
Blue Stone, L1-52
Boamonde Quartzo, L1-09
Bookbinder Crystals, L1-46/L1-47
Brazilian Bra Straps, C-T14
Brazilian Crystals Eirele, L1-11
Breathe Art Paintings, P61
Broken Arrow Mining, C11
Bryan's Minerals, MC 20
Bug House, X #2
Butterflies By God, A12
C and I International Inc, T50, C73/C74
Carneiros Crystals, X #52
Casablanca Exports, X #5
Casper Gems, P38/P39
Chez Aziz, T39
Chi Fashion Jewelry, C14
Classic Gems NY Inc, SC 31
Cleber Stones, A4
Cristais Maia, L1-29
CristalM & Sungaialife Co., T2
Crystal and Gems International, C46/C47
Crystal Balanced, L1-67
Crystal Mineral Co Corp, ST6/ST8
Crystal Mine Brazil, SD 12
Crystal Mine Inc, SW3
Crystal Light Imports, X #29
Crystals and Minerals of Southern Africa, P26
Crystals from Heaven, MC 16
Curio Grove, P08
Daniel Kinfe Ethiopian Rough and Cut Opal, C-T5
Daniel Venturini Birds in Stone Carvings, SC 31
David R Freeland Jr Designs, SC 33
Deeba Gems & Minerals, L1-85a
Deen Malik, Inc., P52/P53
Designs by Alex Simkin, P25
Diamond Pacific, X #22
Diego Minerals SRL, L1-25
DiGrande, T44
Discovery Gem & Jewellery, SC 36
DJ Rinner / Lefthand Gem, L1-50
Dorjee Design Inc, C15
Down to Earth Rock Shop, A304/A404
DPS Crystals, L1-81/L1-83
Earth Elements, X #37
Earth Minerals Morocco, T33
Earth Treasures Zambia Ltd, L1-14
Earth's Natural Art, P46/P47
Earthtones Gems / BGC Gems, SD1
Earthworks Imports, A709/A809
East Africa Gems, C-T7
El Paso Rock Shop, L1-23
Elamri Minerals and Fossils, T25
Ethio Gems Mineral Exports, C-T13
Ethio Star International LLC, C-T20
Euphoralite, P41
Excel Gems and Minerals LLC, A502/A602
Excellence America LLC, A1
Export Africa, A1003
Family Stones and Glass LLC, X #13b
Fay Brown, C38
Felipe Barrera Rock Shop, X #33a
Fina Minerals Eirl, P20
Fine Gemstone, P21
Five Lions Gems, C52/C53
The Foothill Inc, L1-20
Freedom Valley Gems, SC 5
Galore Minerals Limited, L1-66
GCO Amethyst, ST7
GCP Jewelers, P64
Gem Avenue Rock Shop, L1-45
Gem Center USA Inc, T27
"The Gem Guy", SC 21/22
The Gem Shop Inc., X #15
Gems Mart LLC, T28
Gemsbay International, SC 43
Generation Crystals, L1-19
Geoda, P03
Geofossiles LLC, T51
Geoscience Industries, T22
GES Gems Brasil Comercio de Pedras Ltda, SC 32
Getting Stoned, X #38a
Gneiss Guy Minerals & Fossils, A103/A203
Golden Spirit Kreations, P01
Goldnik Inc, C1
Gomes Stones LLC, T41
The Good Medicine Shop, C8/C9/C10
Good Migrations Studio, P59
Gostafe Minerals and Fossils, T4
Greatwall Consulting & Trading, A306/A406
Grupo UH S.A., A506/A606, X #32a
Gruta, X #62-64
Gruta Minerals Ltd, SD2
GTG Gems Corp, SC 2, A21
Guinea IP, C20
H&G Minerals, SW4
H&M Minerals, X #61
Hagar's Fossils and Minerals, A105/A205
Hameed Gems Collection, C-T12
Harex International LLC, P12/P13
Hausen Rock Treasures, X #19b
Heart of the Mountain / Yardbuilders, A303/A403
Hennycon Company Limited, L1-31
Hiba Minerals, ST1/ST2
Highlights of Morocco, T38
Himalaya Unlimited, C-T3
Himalayan Essentials, C18/C19
Hogga Mohamed, SW5
Holguin Mexican Minerals, L1-20
Huichol Heart, P04/P05
Humming Bird Mine, MC 3B
Ian Burns Boulder Opal, C-T6
IGM, SD4/SD5
Imperial Gems, C2
Import & Export Pasion LLC, L1-37
Ireen Mutiti Gem's and General Dealer Ltd, A22
Jabarkhel Gems Collection, TBT
Jacksonville Gems and Jewelry, TBT
Jadminer SL, L1-59
Jallow and Brothers, A903
Jan Crystals & Minerals Inc, TBT
Janu Gems Inc, TBT
Jawneh Brothers Imports, L1-35/L1-41
Jennifer Gems, C55/C56/C57
Jewel Pledge, X #47-48
JH Stone Galleria, A807
Juno Design, C70/C71/C72
JVW Enterprise, C21-C24
KD Meteorites, A702/A802
Kala Imports, X #7
Karkouri, SW11
Karma Crystal Creations, T3
Kegan, Inc, X #8
Keystone Crystals, L1-24
Khan Gemstone, P37
Khorasan Gems & Minerals, X #42
Khyber Gem Stone, A906
King Mike Mining, X #27
La Malaquita LLC, T24
La Raphvia Vert, X #45b
LAGemshops.com, L1-84
Larimar and Amber Design, C67
LarimarCA Inc, C49
Lauratas Inc, C69
Leonard Crystals, A707
Like International, C16
Liliana International, P27
Los Amigos, SW13
Lost World Fossils, A11*
Low Country Geological, X #20
Lubytar LLC, L1-36
Luxe Art and Jewelry Network, SC 41
Luxor Imp & Exp Co, A703/A803*
Luwi Investments Ltd, P02
MADACRYSTALS, L1-95
Madagascar Import / SEAM, T12, L1-86/87
Madagascar Top Stone, SW12
Madagasc Art Inc, L1-32
Majid, SW7
Malachite & Gems of Africa, T16
Mamoun Minerals, T6
Mandala Handicrafts, C41
Manifest Minerals, SW21
Marco Schreier
Mineralenhandlung GMBH, C29-C32
Maritime Jewelers, C58
Mark Allen Jewelry, SC 45

Mass N Tons of Rock, A7
Matrix India LLC, P14/P15/P16/P17
MBG di Post Annika, P10/P11
MD Opal, P40, C64/C65
Mel's Minerals, MC 10
Mercurious Designs, L1-75
Meteorite Show, L1-68
Mia Gems and Jewelry, L1-92
Mibladen Mineraux, SW20
Micas Minerals & Jewelry, SW19
Michal & Company, X #16
Michigan Rocks & Minerals, P22/P23
Mimona Selenites and Fossils, SW1
Minas Brasil Stones, T13
Minas Cristais SWX, T42
Mineral Market LLC, P18/P19, T21
The Mineral Showcase, P54/P55
Minerales Alpamayo, P09
Minerales Cristales Macchu Picchu Peru, SW8
Mineralphil Madagascar, T46
Mineralia, X #57
Minerama LLC, SW15
Mineraux Midelt, T31
Mohamed M'Rini, ST9/ST11
Moldavite Family (Green Snowflake LLC), A18
Moldavites, C48
Moon and Star Gems, SW6
Moon Mountain Gems, MC 1/2
Moroccan Rugs and Gems, ST10
Moroccan Stones, SW24/SW25
Moroccan Desert, X #32
Morocco Minerals, T47
Mount Charleston Zen, C33
Mountain Air Crystals and Gifts LLC, P06/P07
MP Products, X #4
Mr. Agate Co, L1-53
MRK Global Networks, L1-05/L1-10/L1-15
Mulele Minerals and Fossils, L1-55
Mushingwa African Minerals & Arts, L1-13
Mystic Creations LLC, C51
Mystic Gems LLC, L1-78
Myths LLC, C54
N.M. International, SW23
N.M. Koch Company, X #28
Nadri Gems, X #44
National Minerals, T1
Nativa Gems, L1-28
Natural Crystal, SW9
Natural Treasures of Morocco, T8
Nature Designs, T34, X #51
Nature Little Stone, A13
Nayab Gems & Minerals, A409
New Bharat Stones & Minerals, L1-42
Nharo, A704/A804*
Nikhil Gems, L1-60
Norcross Madagascar, X #25
Nord Fossil Inc, P48/P49
Northern Nevada Gold, A24
Northwest Montana Fossils, P67
Nouhayla Minerals, T29, T36
Nurbu Inc, C25
O2 Export Gem Company Ltd, L1-63
The Obsidian Heart SA de CV, L1-76
Obsidian House, X #33b
Obsidianas de Mexico, A6
Obxiarte Rainbow Obsidian, A708/A808
Oh My Druzy, L1-28
One of Kind Designer Cabs, P34/P35
Opal Ethiopia, A5
Opalos De Fuego Mexicanos, C43
Opalos Rubio Mexico, C34
Opalos Romero Inc, T10
Orca Gems & Opals, A14
Ottesons South of Sante Fe, P69
Over the Atlantic Minerals LLC, L1-26
Pak Afghan Gems, A902/A1002
Pameer Gem and Jewelry, C-T2
Pandora's Box, C37
Pangaea Industries Inc, T14
Panizza Minerals LLC, L1-48/L1-49
PCR Stone Imports, A905/A1005
Peace Trade International, T45
The Perfect Gem, P62
Perfect Point Crystal Company LLC, L1-58
Peridot International, C-T17
Peru Minerals, X #24
Peru Santo, L1-22
Pikes Peak Rock Shop, P44/P45
Pingo de Agua Cristal de Rocha, SW10
Power of the Stones, T9
Prairie Jewel & Gemstone, SC 15
Pyramid Peak Gems, MC 7
Quasar Gems & Jewelry, X #39
Queen Makda Gems, C-T1
R.K. Gemstone, C-T11
RA Stones, C-T8/T9
Ragan's Gems & Minerals LLC, L1-93
Rainbow Gems, X #18
Rainbow Rocks and Minerals LLC, A901/A1001
Rare Rock Shop, MC 19
RDG Trading LLC, A309
Red Sky Minerals, MC 5
RFL Rockshop, A2
RFM, ST5
RG Crystals Ltd, SC 23
Ritla Inc, SW2
RM Art Designs, C59/60/61
Robbins Jewelry, A308/A408
Rock Star Gallery, X #50
The Rock Zone, T20
Rock Décor, A17
Rockology, A501/A601
Rockstar Gems, L1-40
Rockstoc LLC, SC 28
Rockswest, MC 17/18
Rojas Minerals Y Artesanias, A805/A806
Rosman Gems & Minerals, X #21
Rostirolla's Nature Wonders LLC, L1-61
Rove Morocco Gems LLC, T37
RU & AL Minerals & Stone, X #56
Runnin' Boar Minerals, MC 6
Rush County Rocks, P32
Sagenite Man, X #31
Safi International Gems and Minerals, L1-18
SAI Brazil, C50
Samora Minerals & Amber, X #10
Sanchi and Filia P Designs, SD10/SD11
Sandy Schor & Co, C26/C27/C28
Sarah Designs Jewelry, C3/C4/C5
Scrimshaw, P01
Scully's Minerals, MC 12
Selenite Mining Company, X #38
Serenity Tibet, X #36
Shambary International SRL, T40
Shannon Family Minerals, A101/A201
Shelter of the Sun, SC 49
Shop 4 Gifts, X #3
Silica-Gem Co Ltd, T5
Silver & Gem Design, A15
Silver Colors Inc, C35/C36
Silver Rainbird, X #26
Silver Universe, L1-79
Singing Bowl Sound and Craft, T23
SINO Arts & Crafts Mfg Co, L1-17
Skull Army, A507
Sky Blue Gems & Minerals, L1-34
SM Cristais, X #46a
Smilodon Resources, LLC, A23
Soul Crystals Brazil, L1-33
Southern Sky Opals, P42/P43
Space-Spirit GmbH, A302/A402
Spirit Stone, X #14
Spiritstone Gems, P28/P29/P30/P31
Stan's Cabs and Rocks, MC 14A
Stanislaus Imports, A104
Starborn Creations, P58
Stephen Schuchman at Carnelian.com, A301
Sterling Creations, SD3
Stone, MC 3A
Stone and Rox, A102/A202
Stone Fusion, L1-06
Studio Rock Shop, P33
Style Art Stone Craft, T30
Super Time Int'l Corp, T52
SuperAgates.com, A401
Superb Minerals India, T53
Sun Gemstone LLC, SC 46
Suncrystal Mining LLC, C7
Sunwest Silver, X #35
Sweet Foraged Things, C17
Tamayos Opals & Obsidians, C68
Tamterra Jewelry and Gems, C44
Tarheels Gems and Minerals, L1-21
Tenzing Collections, X #59
Tex Mex, X #6
Tibetan Sisters Art, C39
Tibetan Souvenir, C42
TigerEye Minerals, L1-39
Top Gem / Virgo Gems, T11
Top Turquoise Inc, C75
Tosco International Inc, C36a
Toujour, P36
Trini and Julies Minerals, MC 15
Trinity Gems, X #46b
Turquoise Mining Co, X #11
UKS Quartzo LLC, L1-01
UPS, Level 1 – Tunnel, Level 2 – X #65
Uruguay Amethyst, T48
USA Mined Gems & Minerals, A307/A407
Utah Dump Digger, P65
Van Amburg Leathers, L1-91
Vance Gems, SC 25
Veronica Matthews Minerals, A504/A604
Village Morocco, SW22
Village Originals, X #23
Vista Gems, A605
VitaJuwel USA Inc, C1a
Warehouses Live, L1-71
Wari Designs, C13
Watan, X #41
West Rock Company, A9
Western Woods Inc., L1-02/L1-03
White Knights Inc, SC 47
White Mount Gem and Jewelry Art LLC, L1-80/L1-82
Whittaker's, C66
William's Gems, X #68
Woodnotch, SC 39
World Bead Mine, X #45a
World Circle, A101/A201
World Crystal Business, X #43
Yax Tun Minerals LLC, SC 44
YC Rainbow Gem, SD8
Yong Can Jewelry, X #57
Young Gem Connection, L1-12
Yowah Opals – Australia, SC 40
Yumi Jewelry & Plants, A607
Zee's, X #20a
Zederco, A503/A603
Zambian Gemstone Integrated Trade Association, P24
NWC Level 1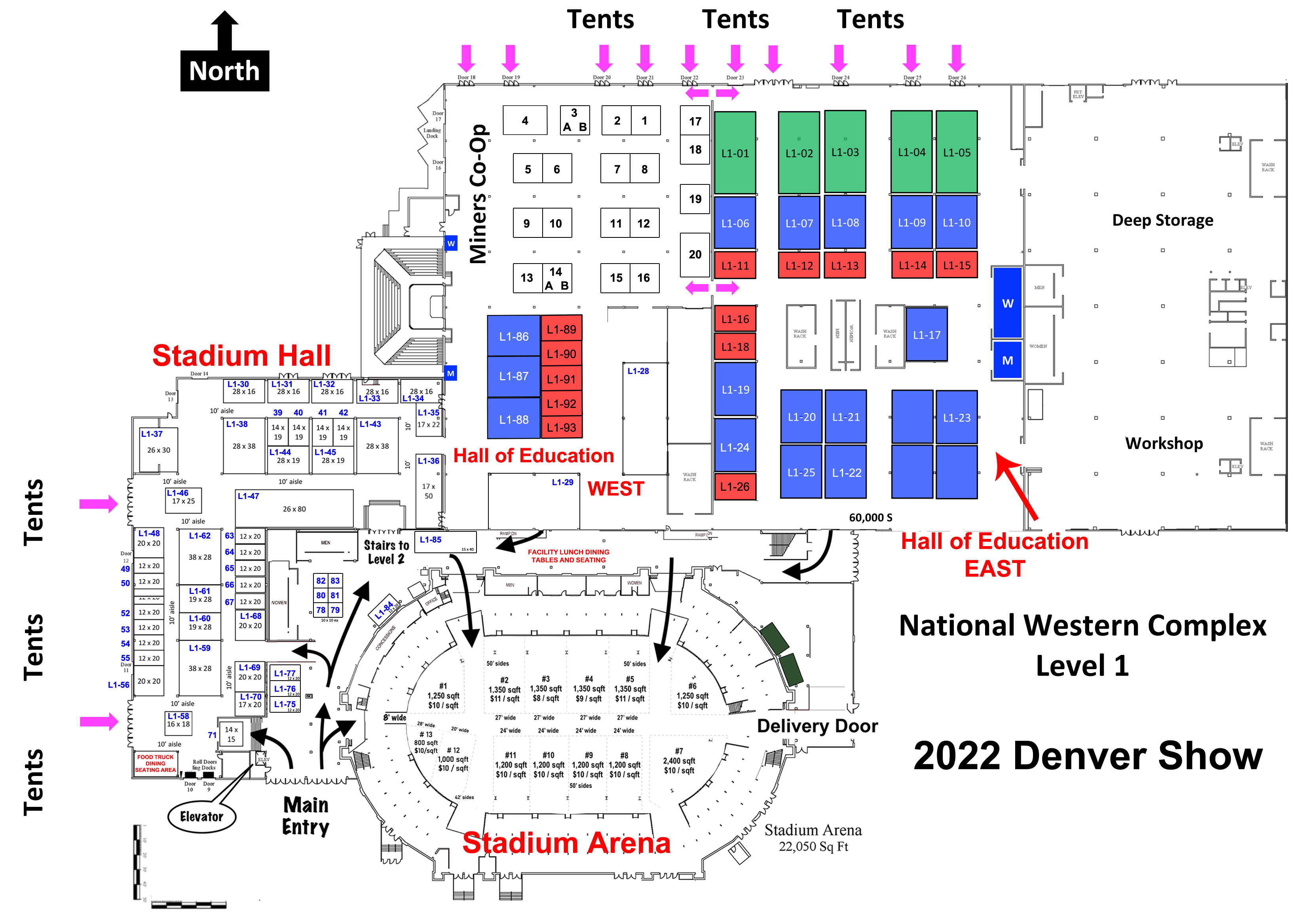 NWC Level 2
NWC Level 3: SHOWCASE
The SHOWCASE occupies the top floor of the Main Building, as shown here, looking westward at its front/east side. During show time the building is ablaze with 50-foot-long SHOWCASE banners:

SHOWCASE FLOOR PLAN:
Events Center: Lower Level Arena + Paddock
All spaces on this level bear the 'P' (Paddock) and "A" (Arena) booth designation.
Events Center: Upper Level Concourse
All spaces on this level bear the 'C' booth designation.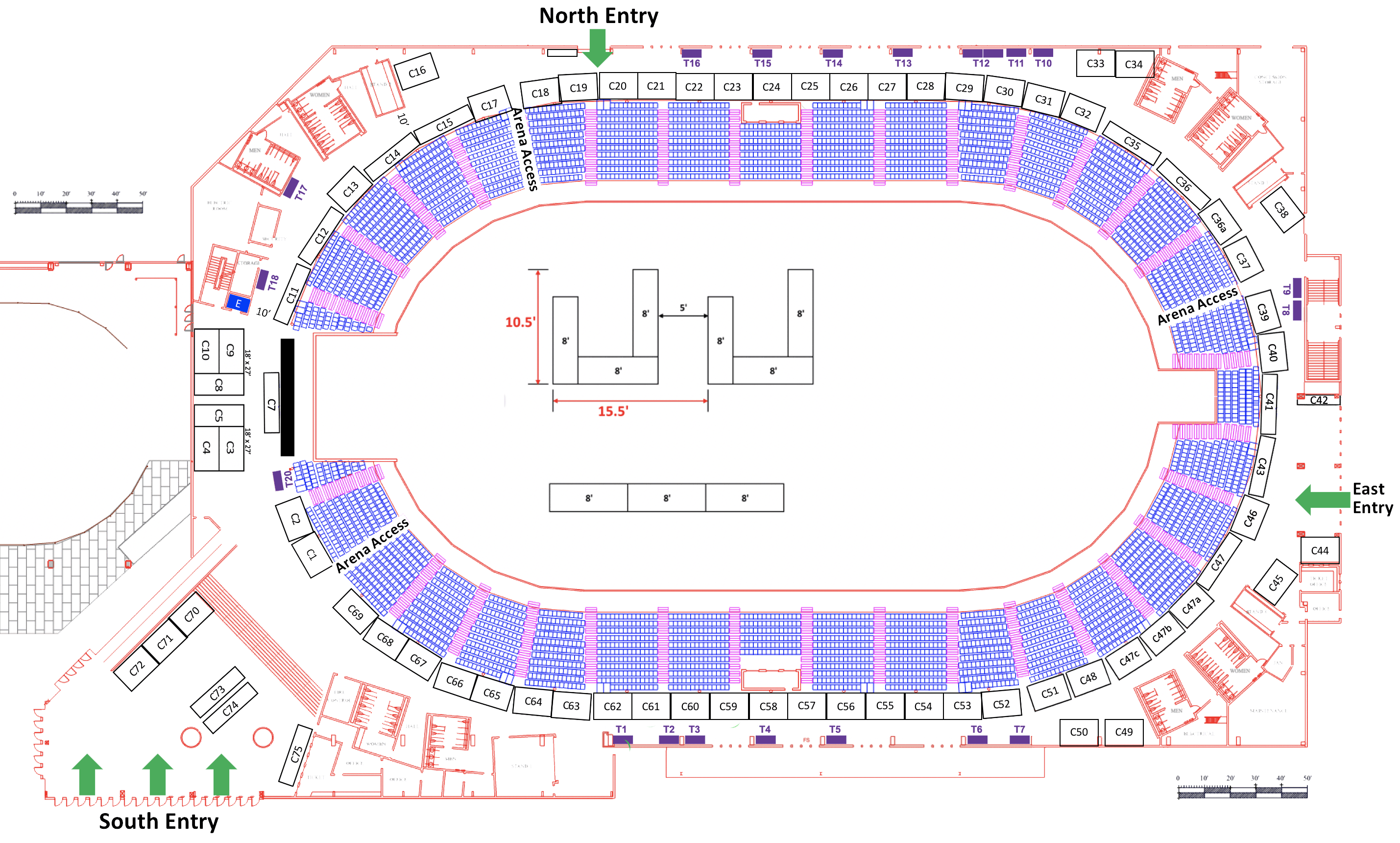 Tents:
Triangle and Barn Tents


Southwest Lot Tents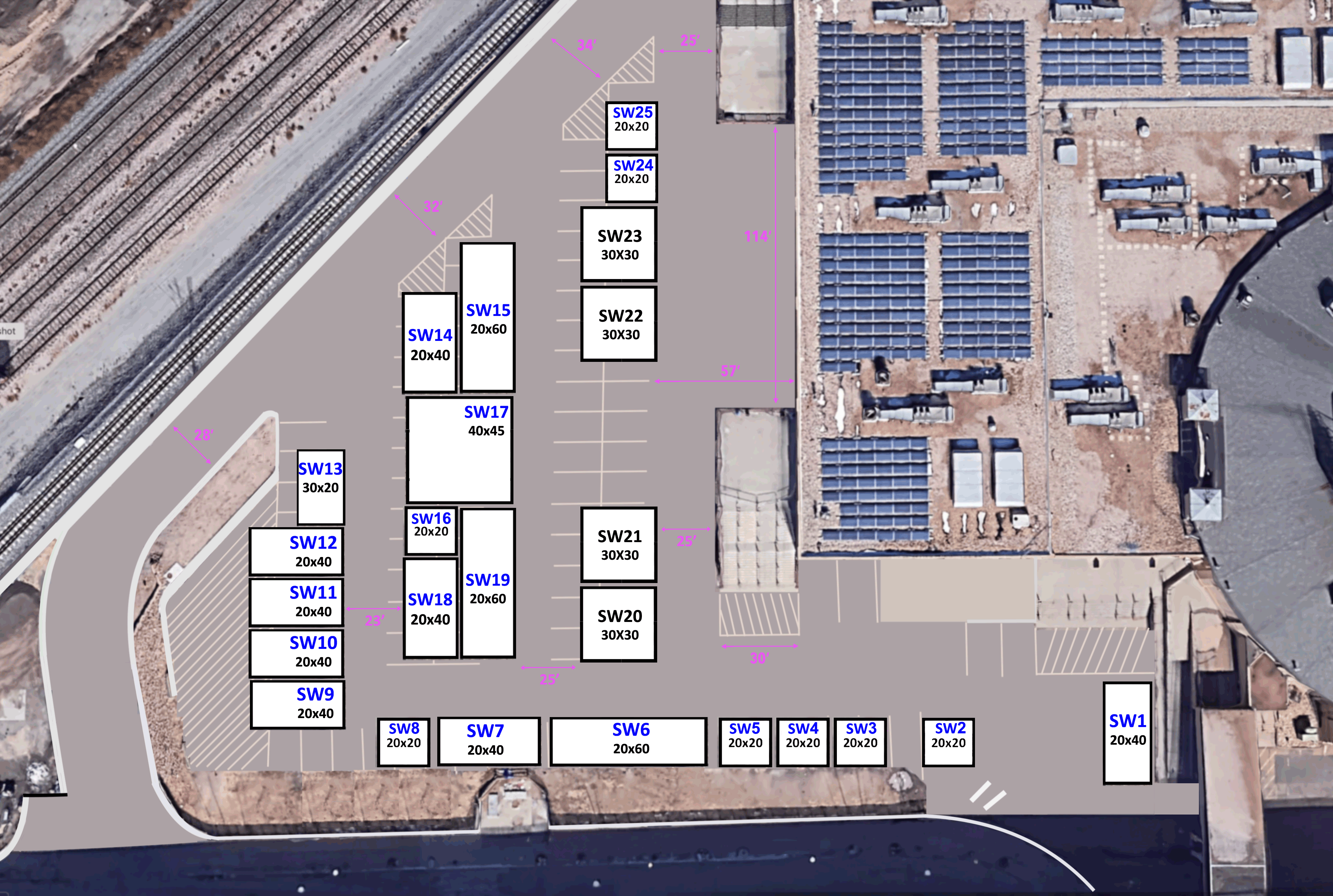 2022 Vendor List
2021 Vendor List
2020 Vendor List
2019 Vendor List